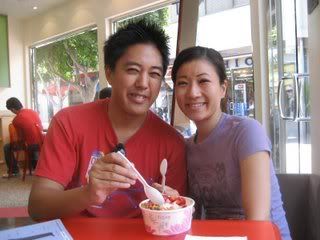 A Break from Wedding Planning at Fiore (Pinkberry Sucks!)



I just saw a dragonfly. It was the color of a rusted nail, whizzing over one of the brick waterfalls that divide my office tower from Yuri's.

We're both working in the Valley now. By a strange coincidence -- I would call it a blessing -- I landed a job in the same office complex as her. The owner throws parties every now and then, like last week, when we got to play nine holes of putt-putt on the plaza between our buildings, then enjoy a lunch buffet and ice cream.


(

Read more...Collapse

)

Current Mood:
grateful
Current Music: Built to Spill


The Ring

I've always thought that buying an engagement ring was one of those things the guy should do alone. Sure, I've seen couples at jewelry stores, peering down into glass cases, looking, together, for the right ring.

But, romantic as that is, ring-shopping is a kind of rite; a test of manhood, if you will. And nothing is more romantic than a surprise.


(

THE RINGCollapse

)

Current Mood:

cheerful

Current Music: Arcade Fire: Going Tonight! :)


I. (The Hard Part): Asking Her Parents

I'd arranged to meet with Yuri's parents at their home in Pasadena, and left with plenty of time to spare, even for a holiday (it was the day before Thanksgiving). But thanks to a toxic spill on the 405, the freeways were jammed, from the beach to Timbuktu.



(

ASKING THE PARENTSCollapse

)

Current Mood:

happy

Current Music: Guitar Hero
So, now the wedding planning begins. And since blogging is such a big part of our story, Yuri and I are thinking about starting a new one, in which we assault anyone who cares to read it with every last detail of the whole planning process.

According to various wedding guides/magazines, the first few things we need to focus on are: the date, the venue, and the number of guests. October 2007 is our fuzzy target zone, the number of guests is in the 150-ish ballpark.

Which leaves the venue as our current and principal focus.

The Athenaeum at CalTech has always been her dream; we took a trip there this past holiday weekend and she won me over. We were so enthusiastic that we went back home, picked up her parents, and showed them: they loved it too.

The only problem now is that the place is booked solid for 2007! If you know of anyone getting married there next year, please try to change their mind, then let us know what weekend they're vacating! :D

Also on our list of possible venues: The Westin (Pasadena), Huntington Garden, and any of a number of vineyards near Santa Barbara. Anyone else have some good ideas?


---


And totally unrelated to the general thrust of this post, I've managed to sift through my iPod and figure out my ten favorite songs of 2006 (in no particular order):

Number 1 -- Goldfrapp (technically, this single, and the U.K. album version, was released in '05, but the U.S. album didn't drop until '06)
Smiley Faces -- Gnarls Barkley
LDN -- Lily Allen
Lovers Who Uncover -- The Little Ones
Hospital Beds -- Cold War Kids
Gold Lion -- The Yeah Yeah Yeahs
Inside & Out (Apostle of Hustle Remix) -- Feist
Ahora -- Juana Molina
The Freest Man -- Tilly and the Wall
Till the End of Time -- DeVotchKa

Current Mood:

awake

Current Music: Yeah Yeah Yeahs
Wow -- thank you to everyone for all your good wishes and support!

Sorry for copping out in a major way, but I replied to only a few before I realized how long it would take to reply to everyone!

Since the pic I posted wasn't Yuri's favorite (I think she looks radiant, personally!), I'm putting one more up that I don't like: she and the landscape (the Japanese Garden at the Huntington Library) are perfect, but I look a lot fatter than I actually am (although I have become, in truth, fatter than I'd like to be!):






Happy New Year to everyone, and thanks again!
» Go Vote, Dammit!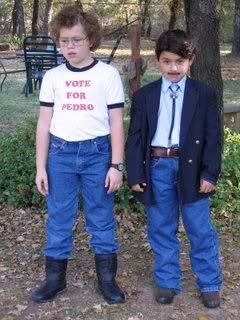 VOTE FOR PEDRO SOMEONE



Last minute guides for Californians:

Speak Out California! Voter's Guide

LA Times Endorsements

Young Progressive Majority Voter's Guide (including judicial)

If you disagree with the arguments, do what I did: flip 'em around. Just go vote! Or you forfeit your right to complain!



And if you feel like doing more, click below:



» National Novel Writing Month


Day One Goal: 1667 words
6:18 a.m.: 816 words


So far, so good. Someone cue the "Rocky" theme.



Click here to start writing your own novel!



» California Propositions
November's upcoming ballot is the most extensive in state history. Trying to figure out where you stand on each issue can be pretty daunting. Here's a few recommendations. (One caveat, though: they come from a bunch of bleeding-heart, tree-hugging liberals like myself. But then again, Clean Water and Alternative Energy are easy to agree on!)




Vote YES on Proposition 84 – Water Quality, Safety and Supply. Flood Control. Natural Resource Protection. Park Improvements.
Vote YES on Proposition 87 –
Alternative Energy. Research, Production, Incentives. Tax on California Oil Producers.
Vote NO on Proposition 90 –
Government Acquisition, Regulation of Private Property.



And check out the Global Warming Solutions Act (AB-32) we passed last month. One more reason California kicks ass.

» (No Subject)
the Provacateur
(71% dark, 34% spontaneous, 42% vulgar)



your humor style:
VULGAR | COMPLEX | DARK



You'll crack on anything, and you're often witty, even caustic, about it.

Therefore, your sense of humor is polarizing. You're transgressive, and you've got a seriously sharp 'edge'--maybe too much for some folks. If they get you, people think you're one of the funniest (and smartest) people in the world. If they don't, they think you're an ass. Whatever, right? While some might question your judgement, your comic intellect is unquestionably respected.

PEOPLE LIKE YOU: Chris Rock - Lenny Bruce - George Carlin





The 3-Variable Funny Test!
- it rules -


My test tracked 3 variables How you compared to other people your age and gender:




| | |
| --- | --- |
| | You scored higher than 99% on darkness |
| | You scored higher than 99% on spontaneity |
| | You scored higher than 99% on vulgarity |